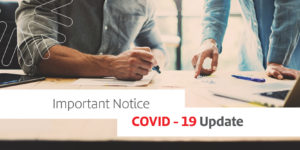 Dear customers,
Australia's largest insurers have announced a range of measures aimed at offering relief to customers severely impacted by the coronavirus pandemic. It is extremely pleasing to see the insurance industry working to help customers in hardship while still managing the fall-out from the recent bushfires, floods and storm events.
For impacted customers, this means we have a range of solutions at our disposal to ensure you can maintain the correct level of insurance cover during these difficult times. These solutions include –
• Providing alternative payment options, such as monthly instalments or even deferment of premiums for those in extreme hardship.
• Ensuring your insurance cover remains intact despite your premises being unoccupied as a result of the pandemic.
• Amending your insurance cover to reflect a change in business activity, reduction in turnover and/or staff or less assets to insure.
This is a unique and unprecedented time for us all and as your trusted insurance partner, we want you to know that we are here to support you through this time.
As every situation can be different, we encourage all our customers experiencing financial hardship to call your broker to discuss the solutions that are available to you.